Fall Honoka'a Seed Exchange and Potluck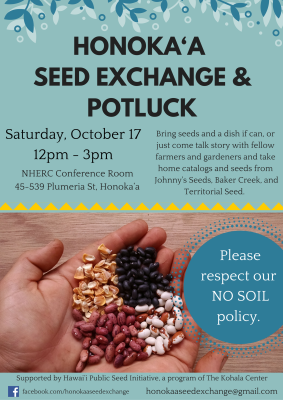 Saturday, October 17, 2015
12pm – 3pm
NHERC Conference Room
45-539 Plumeria St, Honoka'a, HI 96727
Farmers, gardeners, and plant enthusiasts are invited to the Fall Honoka'a Seed Exchange and Potluck on Saturday, October 17th at the NHERC Conference Room in Honoka'a. The seed exchange will feature donations from seed companies including Baker Creek, Johnny's Seeds, and Territorial Seed Company. Participants are asking to bring seeds and a potluck dish if possible, or just take home seeds and talk story.
The Honoka'a Seed Exchange has adopted a NO SOIL policy to prevent the spread of disease and invasive pests like Little Fire Ant. All vegetative material (huli, cuttings, slips) will be subject to inspection before permitted entrance to the seed exchange.
This event is supported by Hawai'i Public Seed Initiative, a program of The Kohala Center.
For more information, contact honokaaseedexchange@gmail.com